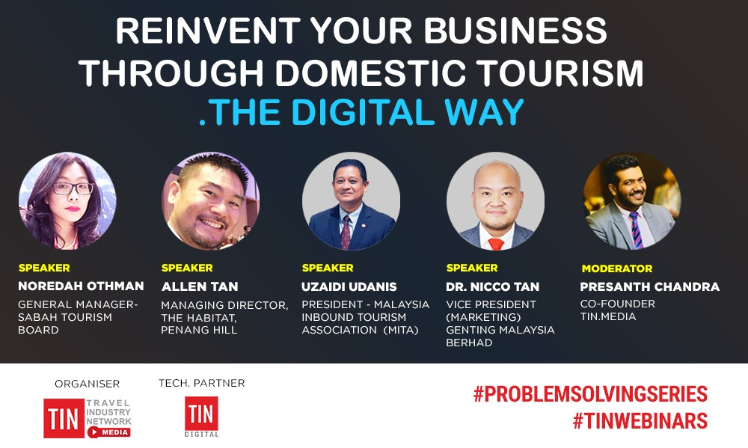 Understanding the current situation, and what a recovery might look like, TIN Media came up with "The problem-solving series" to help the industry prepare for the best even under critical circumstances. The TIN Media webinar on "Reinvent your business through domestic tourism- The Digital Way" was held in 2 parts on 30th April and 7th May successively and was organized by TIN Media. 
The distinguished panelist for webinar 2.0 were Noredah Othman- General Manager- Sabah Tourism Board, Allen Tan- Managing Director-The Habitat, Penang Hill, and Wind Tan- Digital Strategist and webinar 3.0 the panelist were Uzaidi Udanis-President-MITA, Dr.Nicco Tan, Vice President(Marketing) Genting Malaysia Berhad and the entire webinar was moderated by Presanth Chandra, Co-founder of TIN Media.
Both the webinar were viewed over 10,000 times in all the digital platforms of TIN Media amongst the tourism industry professionals, globally. 
For an in-depth insight,you can watch the webinar split in 2 parts through the below mentioned links:
Webinar 3.0