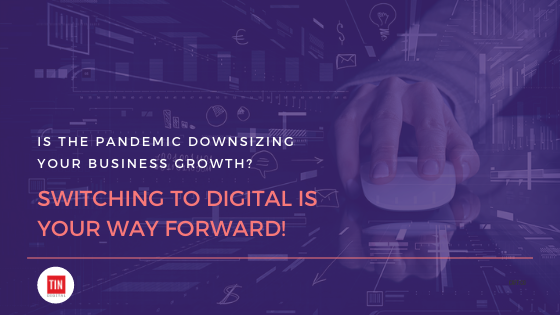 We strongly believe that when it comes to business, the only thing constant is the 'change'. It is crucial for a business to know what the customer wants and innovate segments of the brand/ business eventually, that's how you stand out showcasing your competency in the market. In this constantly changing world of demand: the need, want and lookout of customers also changes with time. The best time to explore new segments is before it becomes "necessary".
Reconstructing and switching digital isn't an option; it's the only way forward
It's how business adapts to market conditions, client requirements, and needs. An upgrading mentality always drives forward-thinking practices and ultimately ensures to stay not just relevant but always ahead of the curve.
With the ongoing chaos caused by the pandemic, it is important to strategies the business plan because what you do in advance is more important than what you do after the pandemic. In life, A lot of situation may be out of our control, but we can plan and be prepared to respond and recover from them. Make sure to reconstruct your business in line with the pandemic, given that now the whole world is switching online.
Reconstructing is all about rebuilding the business with more quality enhancement
We need to understand and accept the fact that businesses are mushrooming each passing day. Almost every day fresh minds with a fresh idea or a new take on an old concept are launching a business that can or will in some way compete with yours. It's high time to act, if you won't take an initiative to adapt and innovate the existing methodology of your business it will indicate that you're waiting for them to catch up and eventually overtake your business. Simple! It doesn't matter how well-efficient or established your business is, there's someone always ready to tap in with a more efficient approach to the same solutions that you have mastered over time with years of experience.
Without being sleazy, will plug in the relevant information that will help you understand the need of the hour. We no longer follow the typical "expert" advice flooding in abundance out there in the online world. You might have come across a lot of feel-good factors that make us feel really good but eventually, they don't hold a profitable online impact.
Digital Businesses are more productive with wider customer reach
Because of the digitalisation, businesses now are much faster and more productive than they used to be. Businesses nowadays are not restricted to any specific geographical region; you're exposed beyond the geographical barriers reaching out on a global scale eventually resulting in your business being more productive. Without a doubt, it's the best kind of innovation that businesses could have asked for.
Making a business online through a Website
A comparative study of offline and online businesses indicates a 40% increase in customer reach by making business online through a Website. When it becomes an important aspect to tap and target more than one type of audience, a website always comes handy as it allows your customers to reach you and get informed about your latest products all under that one link.
With digitization comes the need for speed. Customers want rapid responses to their queries or demands from service providers. A professional, attractive, responsive, and user-friendly Website gives the necessary boost and engagement required for your business.
Expanding business with various channels through Digital Marketing
If you want more customers, you need to get your name out there to drive more traffic to your online presence and generate sales. Digital Marketing is the latest trend that can help drive business. Apart from SEO, Google Ads, PPC incorporating engagement in different types of social media platforms will help to expand the visibility.
Digital Marketing is undoubtedly beneficial for various reasons, but ultimately it all boils down to expanding your outreach to target more people within the ideal demographic.
Research-based Audience
By conducting your research you'll figure out where your audiences are. You can segregate the audience based on their preferences. It is an advantage to boost your business, increase your brand awareness, and make the new sales you have been hoping for given that the pandemic has gradually slowed down almost all operations.
In the digital era, being online is essential for every business that wants to access maximum customers, locally and globally. You have to make an enhanced digital strategy to effectively reach the goal set for the business.
Building a business is undoubtedly a continuous process, the more you try and explore on different segments and channel the more it appears polished and advanced, just like writing documents, in general, if you believe the first draft is final, chances are you might never become a great writer. It requires constant change to finally embrace the final draft. Likewise, constant up-gradation and digitalisation is the only way forward to keep in line with the fast-paced world. If you find this post useful and informative share this in your circle. Also, reach out to us for detailed insight on digital solutions.